An option for handling damaged goods that need to be returned to stock is to do a credit memo that returns the damaged products to a Damaged or RMA warehouse until a decision is made on whether the items will be resold or sent back to the vendor.
If returning a serialized or lot controlled item, the user will need to process the credit into the original warehouse it was sold out of and transfer it to the RMA warehouse after creating the credit.
If it is then decided to return the damaged items to the vendor, the most common method is to enter a negative purchase order, negative receipt (out of the "returns" warehouse) and then a negative purchase invoice when you receive the credit memo from the vendor (refer to: the returning damaged product to vendor article for specifics).
Creating a Returns or Damaged Warehouse
Go to File > Configuration Management > Inventory > Warehouse
Click the New button
Enter all the necessary information to setup the warehouse, including GL Accounts.
Click the Save button.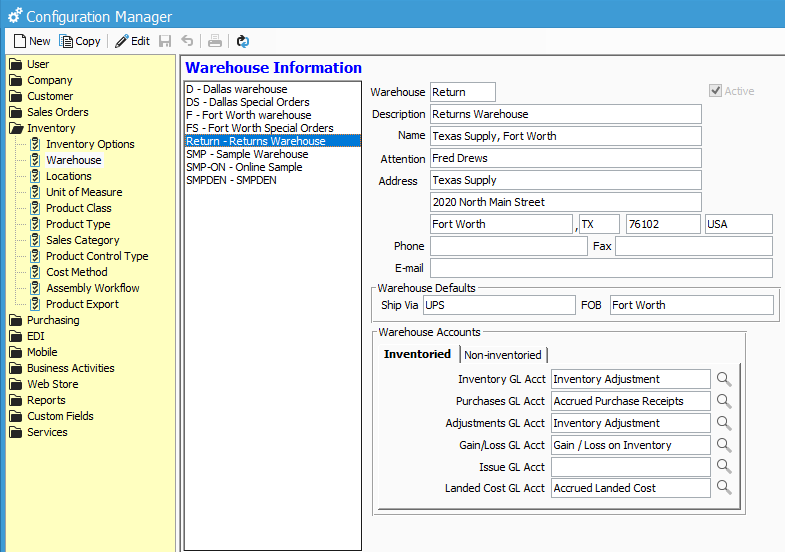 Add Returns Warehouse to Product
The newly created warehouse needs to be added to the products in the Product Information window. This will allow you to select the Returns warehouse throughout the returns process.
Select Inventory > Product Information or click the Product icon on your Icon Bar to open the Product Information window.
Either manually type the Product ID and press the Tab key on your keyboard or lookup the particular item in the search window and select.
Click the Edit button.
To add a warehouse, click the Add Warehouse button in the Inventory tab.

Select the Return warehouse in the Add Product to Warehouse window
Click Add

Click the Save button on the Product Information Window