Configuring Document Numbers for Sales, Purchasing, and Inventory Transactions
File > Configuration Management > Company > Numbers
Document Numbers, such as the Sales Order number, are auto-assigned by Acctivate and defined in Configuration Management. To get here, go to File > Configuration Management > Company > Numbers. For each Document Type, you must define the Low and High number. The Next number will increment for each record and should be within the Low and High range. The administrative user can also define an alphanumeric Prefix and/or Suffix for each type of document except for Inventory session numbers.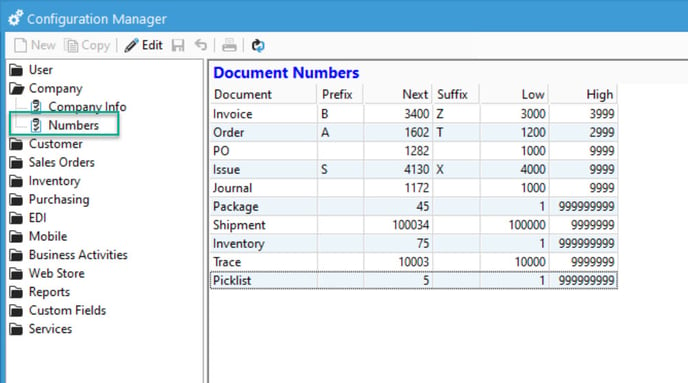 In the example above, the Order Number range of A1200T – A2999T would be used in the following configuration with A1880T as the next Sales Order number. When the High number has more digits than the next number, the Document Number will be padded with zeros. For the Shipment numbering, the next number will read as 0100083 since the High number is 9999999 (7 digits) instead of 999999 (6 digits).
The Documents listed about are found in the following sections of Acctivate:
Invoice – Sales Invoice, Service Invoice, and Credit Memo
Order – Sales Order, Service Order, and Credit Proof (Credit Memo before Releasing Credit)
PO – Purchase Orders
Issue – Business Activities
Journal – General Journals
Package – Packages created in Packaging Manager
Shipment – Shipments created in Packaging Manager
Inventory – Inventory Session numbers
Trace – Track and Trace
Picklist- Picklist ID.
For more information about configuring numbers, check out our docs page.