How can I find what version of SQL Server I'm using?
Go to Help > View Usage Metrics. In the new window, click Refresh and mouse over the value for SQL Version.
Some users may have multiple versions of Microsoft SQL Server installed on their server computer, making it somewhat difficult to determine which version of SQL Server Acctivate is using. Acctivate allows users to easily find the version of Microsoft SQL Server Acctivate is utilizing by following these.
Log into Acctivate on any workstation computer.
In Acctivate, go up to the Help menu, then select View Usage Metrics"
Scroll to the bottom of the "Usage Metrics" window. The third group from the bottom will show the "SQL Version" Metric. Hover over the Value to display the entire version of Microsoft SQL Server.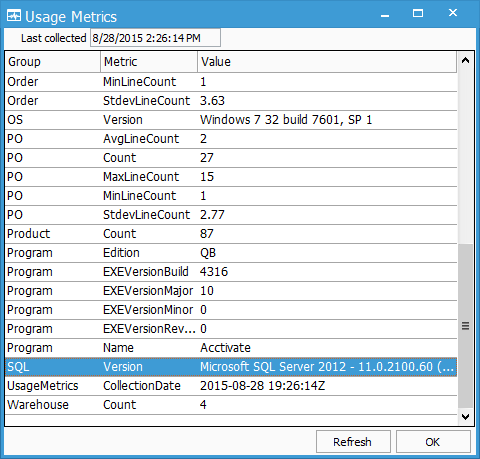 On mouse hover: