If you're wanting to sync the Acctivate Demo with the QuickBooks Demo company, take these steps.
Acctivate includes a "Demo" QuickBooks company that can be synchronized with the Acctivate Demo company (e.g., Southwestern Industries).
The included QuickBooks company file was created in an older version of QuickBooks. This file will first need to be upgraded to work with your version of QuickBooks.
The Acctivate country/edition must also match the QuickBooks Edition installed on your PC. For example, the Acctivate UK Edition requires QuickBooks UK Edition.
Open QuickBooks
Click Cancel if the QuickBooks Login window appears
You can Close Company from the File menu if your company is already open
2. The No Company Open window should now appear in QuickBooks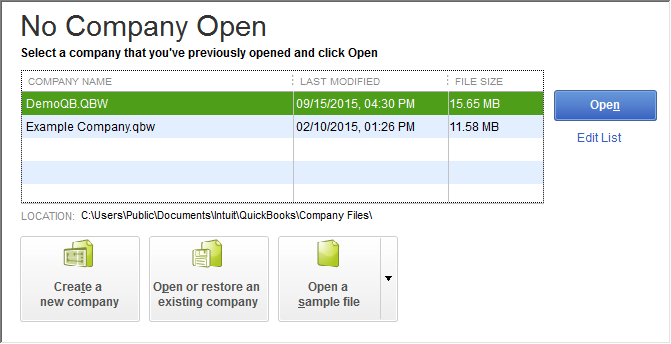 3. Open Acctivate and Log in to the DEMO company as user SYS with no password
4. Click the QuickBooks button on the Icon Bar

5. QuickBooks should open the Demo company file automatically. If not, you can choose the "Open or restore an existing company" option from QuickBooks and browse for the DemoQB.QBW company file at:
C:\Program Files\ACCTivate\DemoQB.QBW for Windows 32-bit editions
C:\Program Files (x86)\ACCTivate\DemoQB.QBW for Windows x64 editions
6. Follow the instructions in QuickBooks to move and upgrade the QuickBooks company file
Click Move when prompted to Move Company File to the recommended location
Check the "I understand…" box and click Update Now when prompted to upgrade the company file to your version of QuickBooks
You will be prompted to backup the company. Click OK to backup to the default location.
Click Yes and OK to the following prompts and warnings until the QuickBooks Home window appears
7. Leave QuickBooks open and switch back to Acctivate now
8. Click Synchronize with QuickBooks from the QuickBooks menu

9. Click Start Sync on the Synchronize with QuickBooks window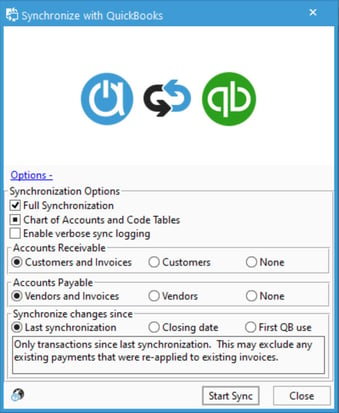 10. Click OK to the warning regarding items that must be re-synchronized with QuickBooks
11. The QuickBooks – Application Certificate window will now appear.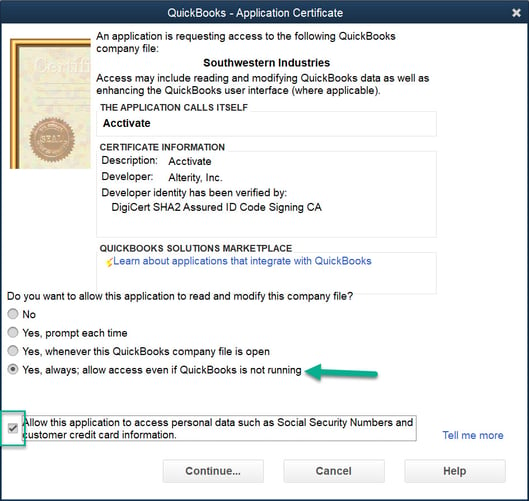 Select the "Yes, always; allow access even if QuickBooks is not running" option
Check the "Allow this application to access personal data…" option
Click Continue…
Review the Access Confirmation and click Done
12. Click Yes when prompted to confirm the new location of the QuickBooks company file
13. Click Yes to dismiss warning about lengthy synchronization after upgrading from QuickBooks 2007 or earlier.
14. Choose "Sync to QB" when then Credit Card Information prompt appears
15. Click Close when the synchronization completes
16. Synchronize with QuickBooks again
No warnings or prompts should appear this time
The Synchronize with QuickBooks function should now complete in approximately 30 seconds