This article explains how to track sales quotes.
Acctivate's order management capabilities seamlessly handles the sales process including tracking quotes.

Quotes that have not yet been turned into sales orders can be tracked in 3 different locations within Acctivate:
Customer Information window > Orders tab
Business Alerts > Sales Order Mgmt
Open Sales Quote report
Sales Quotes in Customer Information Window
Select Customer > Customer Information to open the Customer Information window
Select the Orders tab
In the Type drop-down, select Open Quotes from the menu. This option displays quotes which have not yet been turned into sales orders.

4. In the Due drop-down, you can also filter the displayed quotes by due date.
5. To view the actual quote, double-click the data grid line of the quote and the Quote window will open.
Sales Quotes in Business Alerts
Open Business Alerts by going to Alerts > Business alerts or using the Alerts icon on the Icon Bar
Navigate to the Sales Order Mgmt tab

3. Filter the Type on any of the Quote statuses: Open Quotes, Rejected Quotes, and Cancelled Quotes.
4. You also have the option of filtering on Due date, Workflow Status, and Salesperson on this window.
5.Once filtered, you can open the document by double clicking on the specific line or highlighting and clicking View Order.
6.This window also allows you to Schedule the Sales Quotes to create Sales Orders once they've been approved by your customer.
Open Sales Quote Report
The standard Sales Quote reports can be opened by going to Sales > Sales Order Reports > Quotes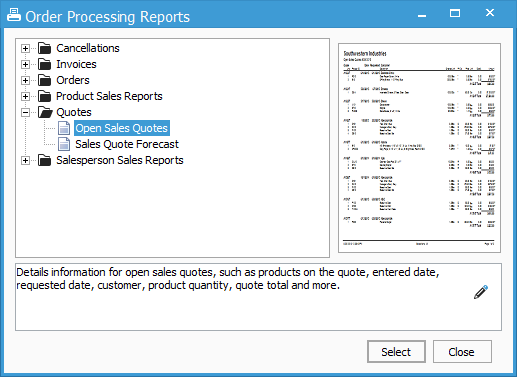 2. Select the report you wish to run by double clicking on the report name or choosing the report and clicking Select
3. Apply the necessary filters in the Report Selection Criteria window
4.Preview or Print the report
Turning Quotes into Sales Orders
When you are ready to turn the quote into a sales order, open the Sales Quote in question and toggle the Status to Scheduled.

2. This will convert the Sales Quote into a Sales Order for processing. Complete the sales order as necessary.