This article explains how to fix error when trying to synchronize with quickbooks.
When trying to synchronize while QuickBooks is open, the error below may be returned:
"Error while connecting to QuickBooks
Could not start QuickBooks"
If you are unable to sync with QuickBooks when you have QuickBooks open on your workstation, you may need to slightly change the configuration of how Acctivate tries to call QuickBooks.
Follow these steps for configuring Acctivate to synchronize with QuickBooks when QuickBooks is open on your workstation.
In QuickBooks, hit F2 to open the QuickBooks Product Information window. Notice, near the middle of the window, the location of the QuickBooks file (QBW).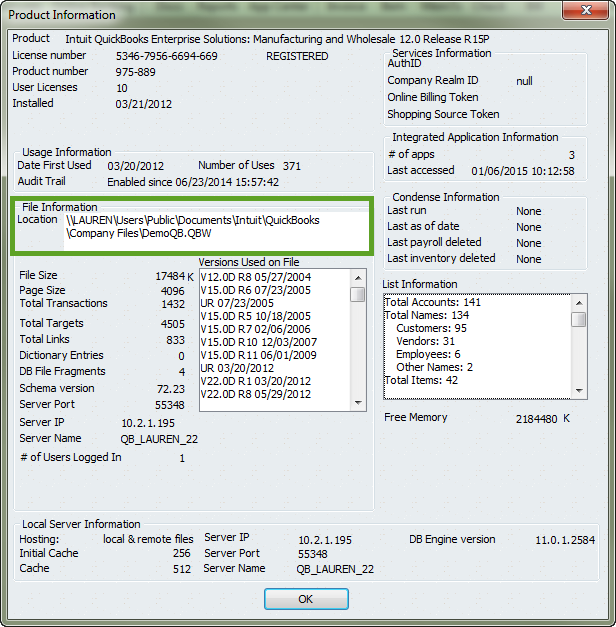 2. Open Acctivate Database Maintenance
From the Windows Start Menu > All Programs > Acctivate > Acctivate Database Maintenance
3.Browse to Database > Database Info.
4.Select the Acctivate company in question, then Edit.
5.From the Product Information window in QuickBooks, copy the Location to the QBW into the QuickBooks data file field.
6.Click the Save (disk icon) button on the toolbar
Note: The Data File Path saved in Database Maintenance must be identical to the path saved in the QuickBooks data file. You may have to toggle the Do not convert to Universal Name option if the file path changes when saving.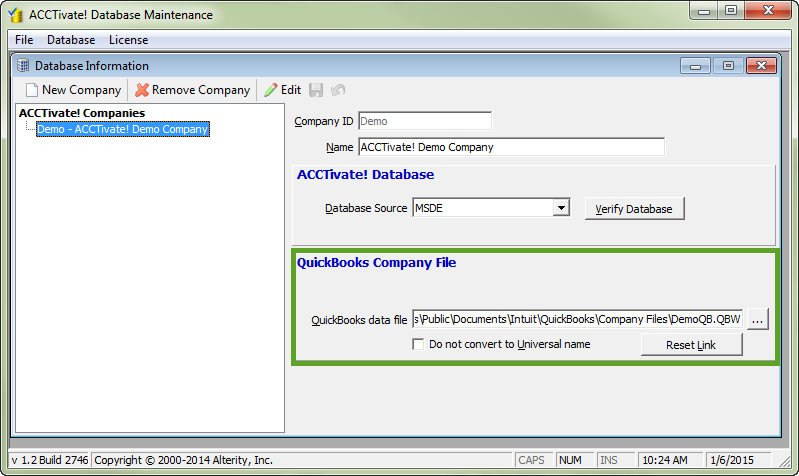 7. Close the dialog box in QuickBooks (from step 1 above)
8. Close Acctivate and Acctivate Database Maintenance.
9. Log back into Acctivate and try running a synchronization again.