This article discusses the steps to upgrade Microsoft SQL Server.
You may be required to upgrade to a newer Microsoft SQL Server version and/or edition. For example, SQL Server 2005 Express Edition only supported databases up to 4GB. The size limit in the Express Edition was increased to 10GB in SQL Server 2008 R2 Express Edition.
Upgrades are an easy way to add capacity without investing in the SQL Server Standard Edition.
The following process will upgrade the SQL Server "Instance" used by Acctivate. Each application (e.g., Acctivate, UPS WorldShip, etc) should all have their own instance. For example, this allows us to upgrade the SQL database engine for Acctivate without interfering with UPS WorldShip.
This document was written for SQL Server 2012 Express Edition, but the process should be similar for other versions and editions. You should also read our instructions for upgrading to SQL Server Standard Edition. You can also install SQL Server 2012 Standard on a new Windows Server, rather than upgrading.
Prerequisites
1. Please read through our Installing SQL Server guidelines. However, these shouldn't be a problem if you're simply upgrading to a new SQL Server version and/or edition.
2. Download SQL Server 2012 Express from Microsoft.
SQL Server Management Studio Express is included in the link above. There are other smaller download options if bandwidth is a concern.
64-bit Edition is recommended for QuickBooks users. 32-bit Edition is required for CYMA users with Pervasive P.SQL v10 or earlier.
Be sure to save the SQLEXPRWT... file. You will need to run it twice today. You may need to perform maintenance in the future as well.
3. Verify Hardware and Software Requirements
Launch the SQL Server Installer on your server (see above)
Select Planning on the left
Click Hardware and Software Requirements on the right (see below)

Prepare for Upgrade
1. Ask all users to close Acctivate, Mobile, EDI and Shipping Workstation integrations. The Acctivate databases will be offline during the upgrade.
2. Use the View Current Users tool to ensure that everyone is out. You should just see yourself in the list.
3. Backup your Company Database(s) before you continue.
Be sure to "Change Company" and backup every company database.
It's very unlikely that your data could be damaged during the upgrade, but it's always a great idea to backup!
Upgrade SQL Server
1. Launch the SQL Server Installer on your server (see above)
2. Select Installation on the left
3. Click Upgrade from SQL Server 2005, SQL Server 2008 or SQL Server 2008 R2

4. The License Terms window should appear after a few minutes. Check the box to accept the license terms then click Next >.

5. Select ACCTIVATE from the Instance to upgrade drop-down then click Next >.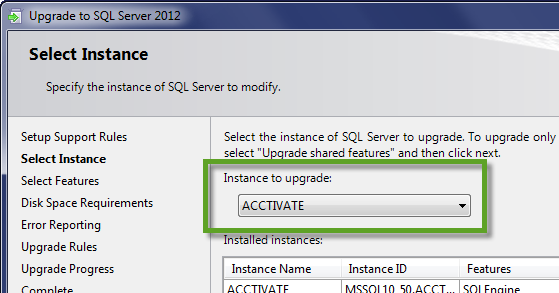 6. You can read through the Error Reporting options, but the default option to not send error reports to Microsoft is fine. Simply click Next > to continue.
7. Upgrade Rules will now be checked to make sure your existing SQL Server can be upgraded. Here are some common problems:
You cannot "downgrade" to an older version of SQL Server (e.g., 2012 to 2008 R2).
You cannot "downgrade" from Standard Edition to Express Edition
8. The Upgrade Process may take awhile based on the size of your database(s). Please be patient with the upgrade. This is a good time to take a break, it could take up to 20-30 minutes.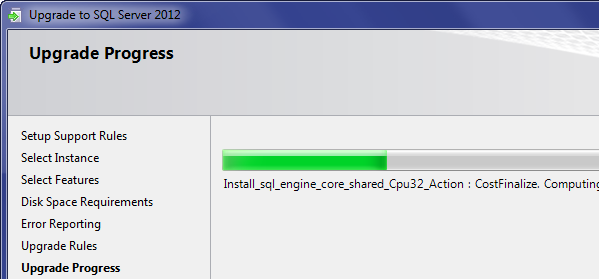 9. The Upgrade Process will eventually Complete with a list of Features and Status codes. All Features should have a Status of Succeeded.
10. Launch Acctivate and log in to each company to make sure the database server is running again.
Congratulations! You've successfully upgraded SQL Server.