This article guides you through the steps to setup UPS using Default Mapping Templates.
Configuring UPS WorldShip® to Import data from Acctivate using Templates.
First, make certain that you have completed the ODBC setup (This must be completed before you begin the UPS WorldShip® integration process. A 32-bit ODBC connection is required)
Ensure when setting up the ODBC that the name of the Data Source Matches the name on the template in both cases the ODBC should be named Acctivate
Download and Unzip the following templates for UPS (UPS)
Open file explorer and go to the following File path C:\ProgramData\UPS\WSTD\ImpExp\Shipment
Copy and paste the files into the the File location

EDI/Packaging Manager setup you will need the two files labeled Acctivate Package Manager and Acctivate Export Shipment.
Non EDI/Packaging Manager use Acctivate Orders, Acctivate Export Shipment.

Launch UPS worldShip, inside of UPS Online WorldShip , select Import/Export Data from the standard toolbar in the WorldShip window.This will open a drop-down menu. Select the Create/Edit Map option.

Ensure the two Mappings are in the Create or edit an import or export map window
Note: If the mapping profiles are not listed, manually create a non-EDI import/export or an EDI or Packaging Manager import/export.
After Confirming the mappings exist, at the main UPS WorldShip window, select Import/Export Data > Automatic Export After Processing Shipment > More… from the file menu.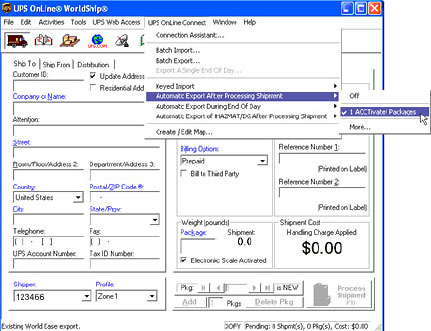 Daily Use
Select Import/Export Data > Keyed Import > Acctivate Orders (select More….if you do not see it on the list. This will open the Enter import key box. Type in your Acctivate Sales Order number and then press the TAB key to select the shipping information for your order.