A quick overview of how Workflow Statues can help your business processed in Acctivate
Scan or enter the order number, Acctivate updates the workflow status
Acctivate makes updating the workflow status of a sales order easy and in turn it can improve warehouse operations through drastic time savings and efficiency gains.
Update workflow statuses using barcodes
The workflow status can be updated directly in Acctivate without using a mobile computer. All that's needed to take full advantage of the Change Order Workflow Status feature is a low-cost keyboard wedge barcode scanner or USB barcode scanner, printed sales documents with barcodes (available since Acctivate 6.3.2) and a willingness to improve productivity.
Alternative workflow status update processes
If you don't have a barcode scanner it is still easy. For lower volume workflow status updates, an order number can be manually entered in the Change Order Workflow Status window instead of scanning a barcode (as detailed in step 4 below).
Also, if you do have a mobile computer even greater efficiency can be gained in the warehouse with Acctivate Mobile modules, especially the Mobile Picking module that automatically updates workflow statuses.

But using barcodes to update workflow statuses is very simple… just do the following:

Acctivate already includes system-defined workflow statuses, but if any user-defined workflow statuses are needed configure them in the Configuration Manager > Sales Orders > Workflow Status.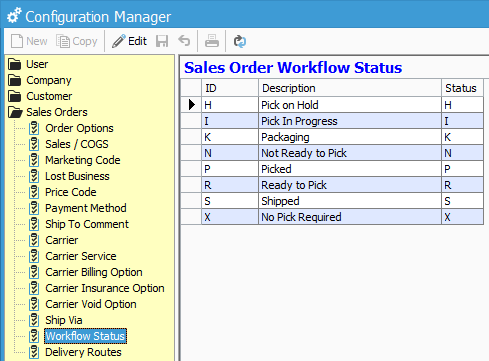 Setup the keyboard wedge or USB barcode scanner.
Have the printed sales documents (i.e. pick ticket, pack list, sales order) available, which include a barcode encoded with the sales order number, for all orders that need the workflow status updated.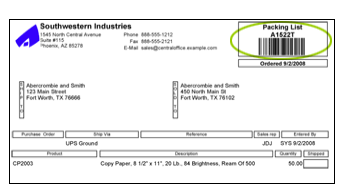 To print the sales document, click the drop-down arrow next to either the Print order , Print pick ticket or Print pack listbuttons within the sales order window depending on the type of sales document that is needed. The barcode will be available on the printout to scan.The barcode on these sales documents is the same barcode available with FedEx/UPS shipping workstation integration.
Learn more about barcodes on sales documents
Select Sales > Change Order Workflow Status from the desktop toolbar. From the new window that opens select the appropriate workflow status from the 'Set Workflow Status to' drop-down menu.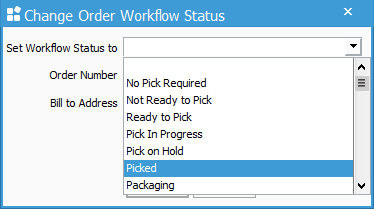 Leave the Change Order Workflow Status window open and scan the barcode on each sales document printout to update their workflow status to the status selected in step 4.The scanner must be ready for each order, so after each scan either have the scanner programmed to automatically 'enter' after each scan or manually press the Enter key. The workflow status on each order will be updated automatically. See the result in the Sales Order window on the Detail tab > Workflow status field.


If the workflow status of the orders was updated to 'shipped' in step 4, use the Prepare Invoices wizard (Sales > Prepare Invoices) to invoice all the orders with that status at once — another time saver.