Go to Help > Acctivate Support > Email Acctivate Log File. In the window that opens up, you can click Open folder to see all Acctivate logs for your system or choose the log type and click send.
The Acctivate exception log contains a wealth of information, including the current Acctivate version, user login information, activity logs, Microsoft SQL Server version, and Windows versions. On top of this, most errors or exceptions will be logged in this daily log. In the event you need to review this log or an Acctivate Support Rep has requested an exception log, you can open and review the current log from within Acctivate.
This is also an easy place to open the Acctivate synchronization log file. The Acctivate Sync Log file is a text file that includes a list of warnings and/or errors that occur during the synchronization with QuickBooks. The information provided in the Acctivate sync log is usually helpful in identifying which record(s) did not synchronize properly. Log files from the last ten synchronizations are available as SyncLog.1, SyncLog.2, etc. You can open these log files with Notepad.
From within Acctivate, open the current exception or synchronization log by going up to Help > Acctivate Support > Email Acctivate Log File.

This will open the Email Acctivate log window which gives you multiple options: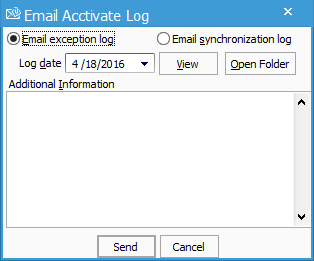 Email exception log – Choose this option to see the exception log which includes a verbose list of the above mentioned information.
Email synchronization log – Choose this option to see the synchronization log only.
Log Date – If you're viewing a specific dated log file, use this to select said date.
View – This will open the exception or synchronization log based on the radio buttons chosen above.
Open Folder – If you would like to view the folder where the logs are saved, click this option.
Additional Information – When emailing the log file, use this to add any information that's specific to your issue or question. This will be sent to Support as the body of the message.
Send – Send the selected log file to Support. Do not use this option. To send a log file to Support, attach the text file in an email and send it to the Support Rep working with you or to support@acctivate.com.