After creating a Vendor bill, you need to sync the bill to QuickBooks in order to pay it. You can also utilize our Data Presentation Screens to view the invoice directly in Acctivate.
After creating a Vendor Bill and running a synchronization, you will need to log into QuickBooks to view and pay the supplier. When integrated with Acctivate, you'll notice the Vendor Bills will change in QuickBooks. The item list has been deactivated therefore the detail of the PO Invoice is shown on the Expenses tab. Based on the Ship To location specified on the Purchase Order, Acctivate will use the Purchases account to reconcile the journal sent for the associated Inventory Receipts.

To find which account Acctivate uses in QuickBooks, navigate to Configuration Management > Inventory > Warehouse > Select the Warehouse in Question. Based on the above screen shot, we've used Warehouse F for the PO and PO Invoice Ship To location. This Warehouse utilizes the Accrued Purchase Receipts GL account for Purchases. This is the most commonly used Purchases account for our customers.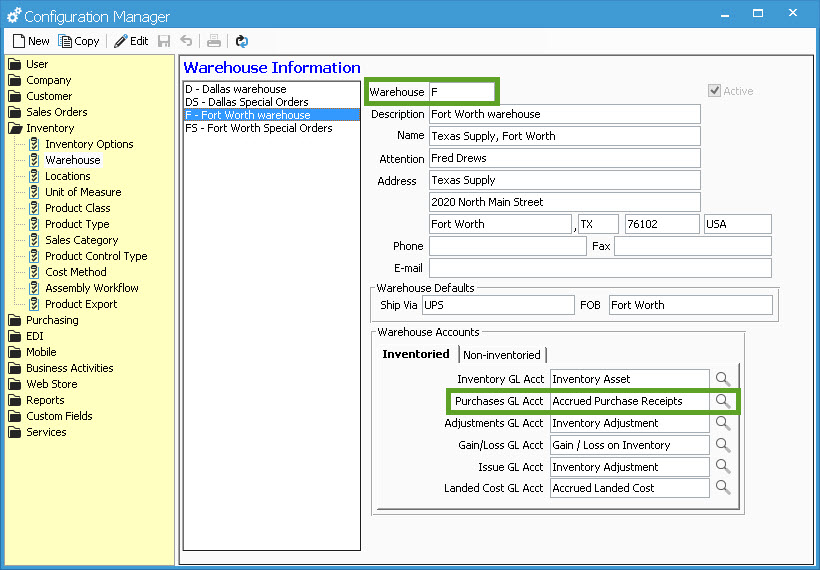 As stated above, the Vendor Bill in QuickBooks will show the detail of the PO Invoice on the Expenses tab of the document. This is due to the nature of the journals sent when processing an Inventory Receipt. Acctivate will Debit the Inventory GL account and Credit the Purchases account assigned to the Warehouse. When sending a PO Invoice, we Debit the Purchases GL account and Credit the Accounts Payable GL account by way of creating a Vendor Bill.
Below is an example of what's shown in QuickBooks on a Vendor Bill created in Acctivate: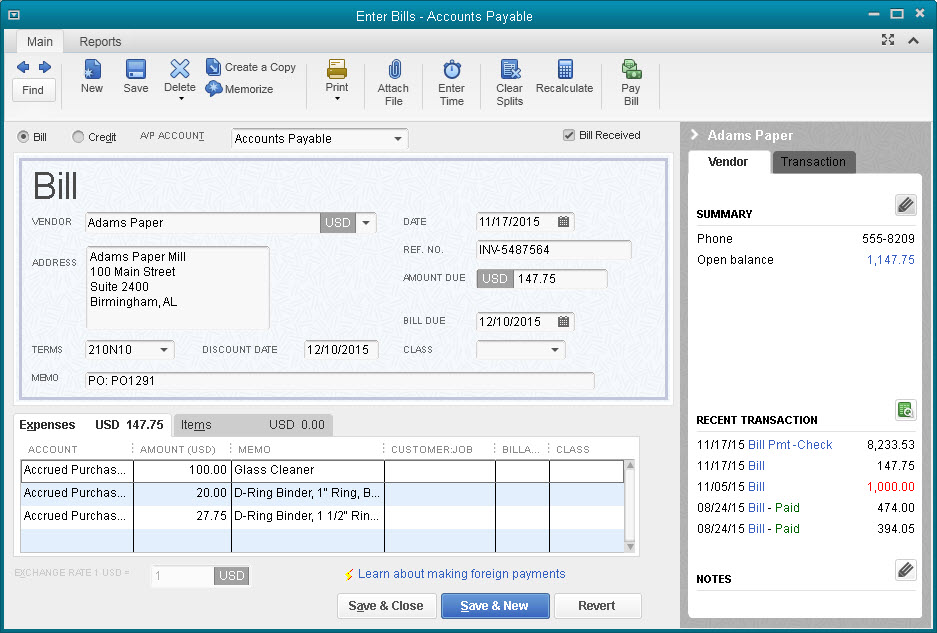 The Invoice Number listed on the PO Invoice in Acctivate is shown in the Ref. No. field
Terms pulled from the Purchase Order are shown in the Terms field on the Vendor bill. If there is a Discount related to the terms, you'll see the Discount Date listed here as it's shown on the Acctivate PO Invoice.
As a reference, the PO Number linked to this PO Invoice in Acctivate is shown in the Memo field.
The Account listed for each detail line pulls from what's set as the Purchases GL account on the Warehouse. If you added an Other Amount or have Non-inventoried items listed on the PO Invoice, you'll also see either the Landed Cost GL account or the GL Expense account used.
Each Product Description from the PO Detail will be listed on the Memo line located in the Expenses tab.
If you need to look at this Vendor bill in Acctivate, you have two options:
From the PO, go to the "Invoices" tab and double click the Invoice in question to open up the Purchase Invoice Data Presentation screen.
Click "Purchasing" on the left side menu to open up the Purchasing data presentation screen, and locate the PO in question. Navigate to the "Timeline" tab and click on the link with the PO invoice number in question.