Cannot change unit of measure because the product has inventory transactions.
Information on and how to change the the stocking unit on a product in Acctivate
While Acctivate allows users to change the sales, purchasing or packaging unit of measure for products that have been included in previous transactions, users are blocked from changing the stocking unit of measure in these cases. Attempting to do so will result in the following message: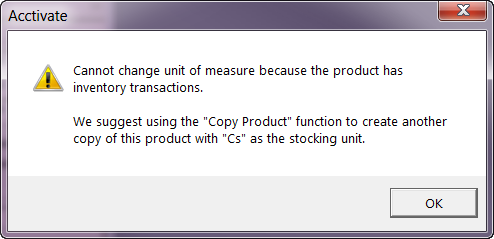 As discussed in our previous Unit of Measure article, the stocking unit is used to convert the unit of measure on all transactions for this product from the sales, purchasing or packaging unit. Changing the stocking unit create issues from the same Product ID calculating the unit of measure in reference to one stocking unit on old transactions, and a calculating the unit of measure differently on future transactions.
To change the stocking unit of measure, you can do the following:
Open the Product window and lookup or enter the product ID for the product that needs to be modified. Click Edit, then rename the product to specify the old stocking unit of measure (for example, ProductABC – Ea)
Click the Copy button to create a new product based on the information of the previous product.
Give the new product a unique Product ID to specify the new stocking unit(such as ProductABC – Cs)
Select a new stocking unit of measure from the drop down list, then click Save.
Note: if you plan on no longer using the old Product ID, you can set this product as Inactive to hide it from future lookup windows. This will not affect prior transactions, but will prevent confusion when selecting this product on future transactions.