What do I do if I Downloaded the Wrong Accounting Version of Acctivate?
Acctivate supports 3 accounting software: QuickBooks, CYMA, and Intacct. Your Acctivate company file is set up for one of these 3 and all updates for the company file require the same accounting version.

If you accidentally installed the wrong accounting version of Acctivate, Acctivate won't run or finish installing until you run the Cumulative Update relating to the correct accounting version. So if you use QuickBooks and accidentally run the CYMA or Intacct version, run the QuickBooks version of Acctivate Cumulative Update to correct the licensing issue. You can see which version of the Acctivate update, cumulative update, or install downloaded by reviewing the file name in your Windows Downloads folder or internet browser downloads. The name will be something like "Acctivate version number (Accounting Version).exe".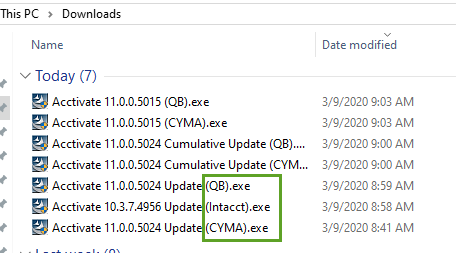 If you do not know what accounting version you are using, you can review this in the header information in your log files. Be sure to review a log file prior to your update.