How to set reminders for yourself within Acctivate to complete certain tasks
The Acctivate system allows you to establish reminders for just about any type of activity that you can think of. Best of all, you can establish the specific date that you want the reminder to appear and assign it to a specific user.
Establishing Reminders
You can establish reminders within the Notes tab of many Acctivate windows.
In the window you are in select the Notes tab.
Choose + New
Type your note.
To assign to a specific user, choose their ID in the Followup by drop down. Once selected, you'll also have the ability to specify a due date and time.
When finished, click Save and Close
The reminder will now appear in Alerts > Business Alerts window under the Remindertab. You have the option to filter on Type, Due date, and Assigned to.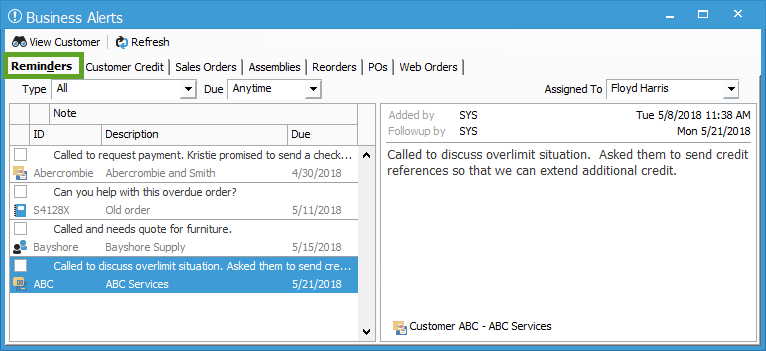 How can I use reminders?
Reminders allow you to simply remind someone of information or an action that they need to take.
Here are a couple of examples of what you might use reminders for:
Reminder to follow up with a Customer (Customer Information Window).
Reminder to check inventory on a particular product (Product Information Window).
Reminder to follow-up on a Purchase Order (Purchase Order Window).
Reminder to follow-up on a Sales Order (Sales Order Window).