Business Activity Manager
Introduction to Business Activity Manager
The Business Activity Manager is a management window in Acctivate that allows users to filter, and batch edit multiple Business Activities at once. The Business Activity manager can be further customized to meet your needs for tracking activities.
The Business Activity Manager is a powerful tool allowing users the ability to track their business activities as well perform bulk actions to activities and create custom filters, all in a friendly and familiar format.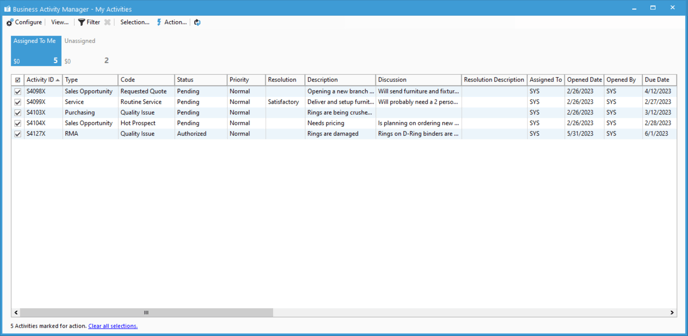 By default, our Business Activity Manager has three separate bars:
My Activites

Shows Activities assigned to the current user as well as unassigned.

Open activities by type.
Open activities by status.
To get the most use out of Business Activity Manager, ensure that you have Business Activities setup and configured in Acctivate.
Basics of Manager Windows:

Business Activity Specific Functions:
Troubleshooting Manager window issues: