This help article explains how you can run Acctivate from a remote computer.
Microsoft offers the Remote Desktop Connection software to access your Windows PC from a home or remote computer. The free client software can be installed on Windows and Mac OSX computers. There are also Remote Desktop clients for iOS and Android.
Remote Desktop can be used to connect to a Windows Server running Remote Desktop Services, previously called Terminal Services, which provides access to your business applications that are configured on a centralized Windows Server. Configuring Windows Remote Desktop Services is beyond the scope of this article. We recommend that you contact your IT support staff to discuss RDS. Acctivate supports Remote Desktop Service on Windows servers listed here.
You can also use Remote Desktop to connect to your personal computer at the office. This method gives you direct access to all of your applications as if you were sitting at your desk. The Remote Desktop Connection service is only included on the business (e.g. Professional) editions of Windows. You should contact your IT support staff to configure your network (i.e., VPN) to allow secure Remote Desktop connections to your personal computer at the office.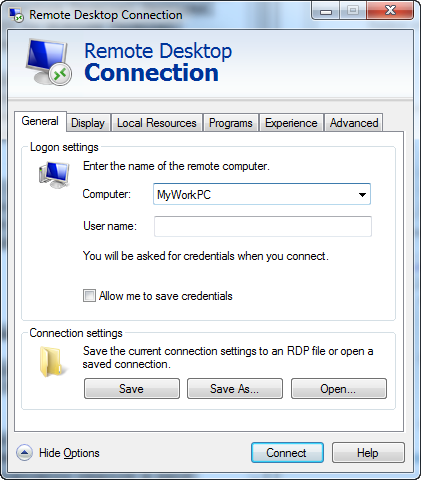 Remote Desktop is required to run Acctivate outside of the office. We are often asked if Acctivate can be ran on a remote workstation using a Virtual Private Network (VPN) connection. We have tested a remote Acctivate client using a Virtual Private Network (VPN) connection only on a fast internet connection. We found that Remote Desktop and/or Remote Desktop Services offers a significantly better user experience. However, we highly recommend that you set up a Virtual Private Network connection when using Remote Desktop.
Instructions for using Remote Desktop Connection software are available for Windows XP, Windows Vista and Windows 7. You can also download the Mac OSX client from Microsoft if your home computer is running Mac OSX.
Alternatively, you may want to consider third-party remote connection services, such as Citrix GoToMyPC or LogMeIn. These products are often much easier to configure and use. However, they are not included in Windows and typically require a paid subscription.